As we move into 2023, it's time to update and refresh your kitchen with the latest and greatest backsplash ideas. Whether you're aiming for a unique look or a simple yet classic design, your kitchen backsplash can be the focal point that brings your entire space together. In this article, we'll explore the top 10 trending backsplash ideas for your kitchen. These selections, while unconventional, are sure to be memorable and add a personal touch to your space.
White Ledge Stone Backsplash
Ledger stone backsplashes have evolved over time, offering a variety of colors and textures. This natural, rough, yet high-class design works perfectly with rustic or craftsman-style kitchens. Ledger stone backsplashes are unique and not seen on a regular basis, making them a standout choice.
Modern Arabesque Pattern Backsplash
The arabesque pattern has been revamped with a modern touch, creating an elegant and versatile design that works well with farmhouse or rustic themes. The unique shape captures attention, making it a great choice for those seeking a stylish, eye-catching backsplash.
Industrial Brick-Look Tile Backsplash
Brick-look tile backsplashes are gaining popularity for their versatility and ease of installation. They suit a variety of styles, including industrial, rustic, farmhouse, and traditional. With various colors and textures available, brick-look tile offers a unique and customizable option for any kitchen.
Large Format Tile Backsplash
Using large format tiles as a backsplash has become a popular trend, creating a seamless and modern look in the kitchen. These tiles are incredibly versatile and can coordinate with various color palettes and design styles.
Textured Subway Tile with a Twist
Textured subway tile adds a new dimension to this classic backsplash design. The wavy texture provides a handmade look, creating a unique and personalized touch to any kitchen.
Zen-Inspired Pebble Stone Backsplash
Pebble stone backsplashes offer a surprising and peaceful addition to your kitchen. This zen-inspired design pairs well with neutral color schemes and creates a calming atmosphere in any space.
Vibrant Colored Glass Mosaic
Glass mosaic tiles have made their way from the bathroom to the kitchen, offering a bold and colorful statement. These tiles work best with neutral colored cabinets and can add a pop of color to any kitchen design.
Geometric Marble Backsplash
Carrara marble has long been a popular choice for kitchen backsplashes, but geometric shapes have taken this classic material to a new level. Hexagon and other geometric patterns are currently trending, offering a modern and luxurious touch to your kitchen.
Mixed Metal Mosaic Backsplash
Combining metals with glass mosaics creates a glamorous and contemporary backsplash design. This trend appeals to both men and women and is perfect for modern and contemporary kitchen styles.
Farmhouse-Style Beadboard Backsplash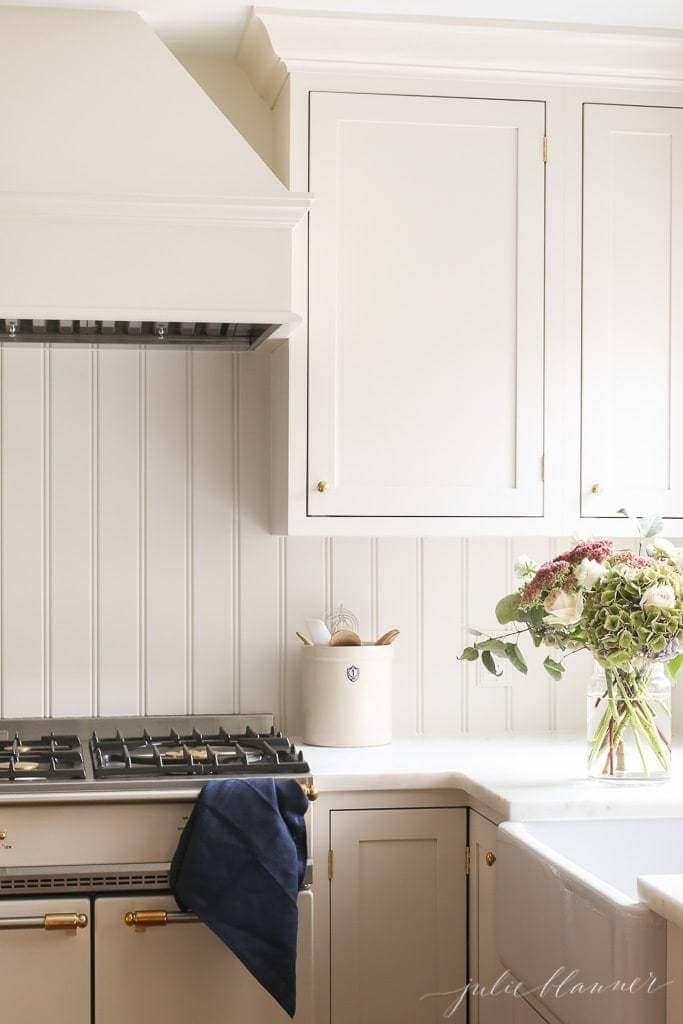 Beadboard is a simple and classic option that works well in farmhouse-style kitchens. This timeless design adds warmth and charm to any space.
Bonus!!!!  Builders Surplus is all about delivering value. So you have stuck around to the end of our blog and for that a extra Backsplash concept that is gaining momentum and  turning heads.
11. Seamless Quartz Backsplash
A quartz backsplash that matches your countertop creates a cohesive and seamless design in your kitchen. This luxurious and modern trend is gaining popularity as it eliminates the need for grout lines and offers a sleek, uninterrupted surface. The durability and low-maintenance qualities of quartz make it an ideal choice for a stylish and practical kitchen backsplash. With a wide range of colors and patterns available, matching your quartz backsplash to your countertop is a great way to achieve a visually appealing and harmonious design in your kitchen.
We hope you've enjoyed our list of the top 10+1 😉  trending backsplash ideas for your kitchen in 2023! If you have questions or need help with design and installation, feel free to reach out to us.