Introduction to Waterproof Flooring
In today's world, homeowners are constantly seeking ways to improve the functionality and durability of their living spaces while maintaining a stylish and modern aesthetic. One of the most significant aspects to consider when designing or remodeling a home is the flooring. With a variety of options available, waterproof flooring has emerged as an increasingly popular choice for many households. This type of flooring provides numerous benefits, including resistance to water damage, easy maintenance, and durability in high-traffic areas. Whether you're on a tight budget, have young children or pets, or simply want a long-lasting and low-maintenance flooring solution, waterproof flooring is an ideal choice. In this blog post, we will explore the two main waterproof flooring options – luxury vinyl flooring and waterproof laminate – and help you understand their unique features, histories, and benefits. By the end of this post, you will have the knowledge needed to make an informed decision about the best waterproof flooring solution for your home.

Two Main Waterproof Flooring Options
When it comes to selecting waterproof flooring, there are two primary options that cater to different preferences and requirements. Understanding the unique features and benefits of each option will help you make the best choice for your home.
a. Luxury Vinyl Flooring (LVT or LVP)
Luxury Vinyl Flooring, also known as Luxury Vinyl Tile (LVT) or Luxury Vinyl Plank (LVP), is a highly versatile and durable flooring option made from multiple layers of PVC vinyl. LVT and LVP are designed to closely mimic the appearance of natural materials, such as hardwood or stone, while providing the added benefits of water resistance, easy installation, and low maintenance. Luxury vinyl flooring is ideal for homeowners who want the look and feel of natural materials without the high cost or susceptibility to water damage.
b. Waterproof Laminate
Waterproof laminate is an innovative flooring option that offers the benefits of traditional laminate flooring while incorporating enhanced water resistance. Unlike standard laminate flooring, which is only water-resistant, waterproof laminate features a surface that is impervious to water, making it suitable for areas prone to spills or moisture. However, it is important to note that only the surface of waterproof laminate is waterproof, and water damage can still occur if moisture seeps into the cracks or underneath the flooring. Waterproof laminate is a good option for those seeking an affordable, stylish, and moderately water-resistant flooring solution.
By comparing the features and benefits of luxury vinyl flooring and waterproof laminate, you can determine the best waterproof flooring option for your specific needs and preferences.

WATERPROOF LAMINATE
Comparing Laminate and Luxury Vinyl Flooring
When choosing between laminate and luxury vinyl flooring, it's essential to understand their differences in terms of composition, durability, water resistance, and other factors. By examining these differences, you can make an informed decision about the best waterproof flooring solution for your home.
a. Material Composition
Laminate flooring is composed of multiple layers, with its primary layer (the core) made of high-density fiberboard. This provides laminate flooring with rigidity and strength. On the other hand, luxury vinyl flooring is made primarily of PVC vinyl, which makes it dimensionally stable and flexible. Learn more about laminate vs. luxury vinyl flooring in our blog post.
b. Water Resistance
While waterproof laminate has a water-resistant surface, only the surface is waterproof. If water penetrates the cracks or seeps underneath the flooring, damage can occur. Luxury vinyl flooring, in contrast, is entirely waterproof, making it a more suitable option for areas prone to moisture or spills. Discover more about waterproof flooring options on our blog.
c. Durability and Maintenance
Both laminate and luxury vinyl flooring are durable and low-maintenance options. However, luxury vinyl flooring is generally more resistant to dents, scratches, and fading caused by sunlight exposure, making it a more robust choice for high-traffic areas and households with children or pets. Read our blog post on the durability of luxury vinyl flooring for more information.
d. Appearance and Cost
Laminate flooring can closely mimic the appearance of real hardwood floors or slate at a lower cost, making it an attractive option for budget-conscious homeowners. Luxury vinyl flooring also offers a wide range of design options that closely resemble natural materials, often at a competitive price point. Explore our blog on affordable flooring options for more insights.
e. Environmental and Health Factors
Laminate flooring is considered an environmentally friendly choice due to its composition, which often includes recycled materials. Additionally, some laminate flooring options are resistant to chemicals and burns, providing added safety benefits. Luxury vinyl flooring, on the other hand, offers built-in soundproofing and often doesn't contain harmful chemicals that can impact indoor air quality. Check out our blog post on eco-friendly flooring choices for more information.
By comparing laminate and luxury vinyl flooring across these key factors, you can make a well-informed decision about the best waterproof flooring option to suit your specific needs, budget, and design preferences.
Top Waterproof Flooring Brands to Consider
With numerous waterproof flooring options available in the market, it's important to choose a reliable brand that offers high-quality products. Here are five top brands for waterproof flooring, each offering exceptional durability, style, and performance
Mohawk RevWood is a revolutionary laminate flooring option that combines the beauty of hardwood with the performance of laminate. This waterproof flooring is designed to withstand everyday wear and tear while maintaining its attractive appearance. Check out our Mohawk RevWood collection at Builders Surplus.
COREtec is a leading brand in luxury vinyl flooring, offering 100% waterproof planks that are both durable and visually appealing. With innovative core structures and an attached cork underlayment, COREtec floors provide excellent soundproofing and comfort. Explore our COREtec flooring options at Builders Surplus.
Pergo is a well-known brand in the laminate flooring industry, offering waterproof laminate options that are both stylish and functional. Pergo's waterproof laminate flooring is designed to resist spills, stains, and scratches, making it an excellent choice for busy households. Discover our selection of Pergo waterproof laminate flooring at Builders Surplus.
Cyrus is a popular luxury vinyl plank (LVP) flooring brand that provides a wide range of waterproof and stylish flooring options. Their LVP products are designed to mimic the look of real wood or stone, offering a durable and low-maintenance alternative to traditional flooring materials. Browse our Cyrus luxury vinyl plank collection at Builders Surplus.
Andover from MSI
Andover is a premium line of luxury vinyl planks by MSI that offers beautiful, waterproof flooring options with realistic wood and stone textures. These durable LVP products are designed for easy installation and long-lasting performance, making them an excellent choice for any home. Check out our Andover luxury vinyl plank offerings at Builders Surplus.
By considering these top waterproof flooring brands, you can find the perfect solution for your home renovation project. Visit Builders Surplus to explore these brands further and find the ideal waterproof flooring option to suit your specific needs and preferences.

Tips for Choosing and Installing Waterproof Flooring
Selecting and installing waterproof flooring can be a seamless process if you follow the right guidelines. Here are some tips and resources to help you make the best decisions for your home:
a. Assess Your Needs
Before diving into the various waterproof flooring options, assess your specific needs. Consider factors such as your budget, preferred aesthetics, room usage, and moisture levels. This comprehensive guide on how to choose the right flooring from The Spruce can help you get started.
b. Research Waterproof Flooring Types
Take the time to research different types of waterproof flooring, including laminate and luxury vinyl options, to determine which best suits your requirements. This detailed comparison of laminate and luxury vinyl flooring from Flooring Inc. can provide valuable insights.
c. Explore Brands and Styles
Explore various brands and styles of waterproof flooring to find the perfect match for your home's design and functionality. This roundup of the best waterproof flooring brands from Floor Critics can help you narrow down your choices.
d. Consult a Professional
When in doubt, consult a flooring professional to help you make the best decision for your home. They can guide you through the selection process and provide expert advice on installation. Find a trusted flooring professional near you through HomeAdvisor.
e. Proper Installation
Ensure proper installation of your waterproof flooring to maximize its performance and longevity. This step-by-step guide on how to install luxury vinyl plank flooring from DIY Network can be a valuable resource for do-it-yourself enthusiasts.
By following these tips and utilizing the provided resources, you can confidently choose and install waterproof flooring in your home, creating a durable and stylish space that stands the test of time.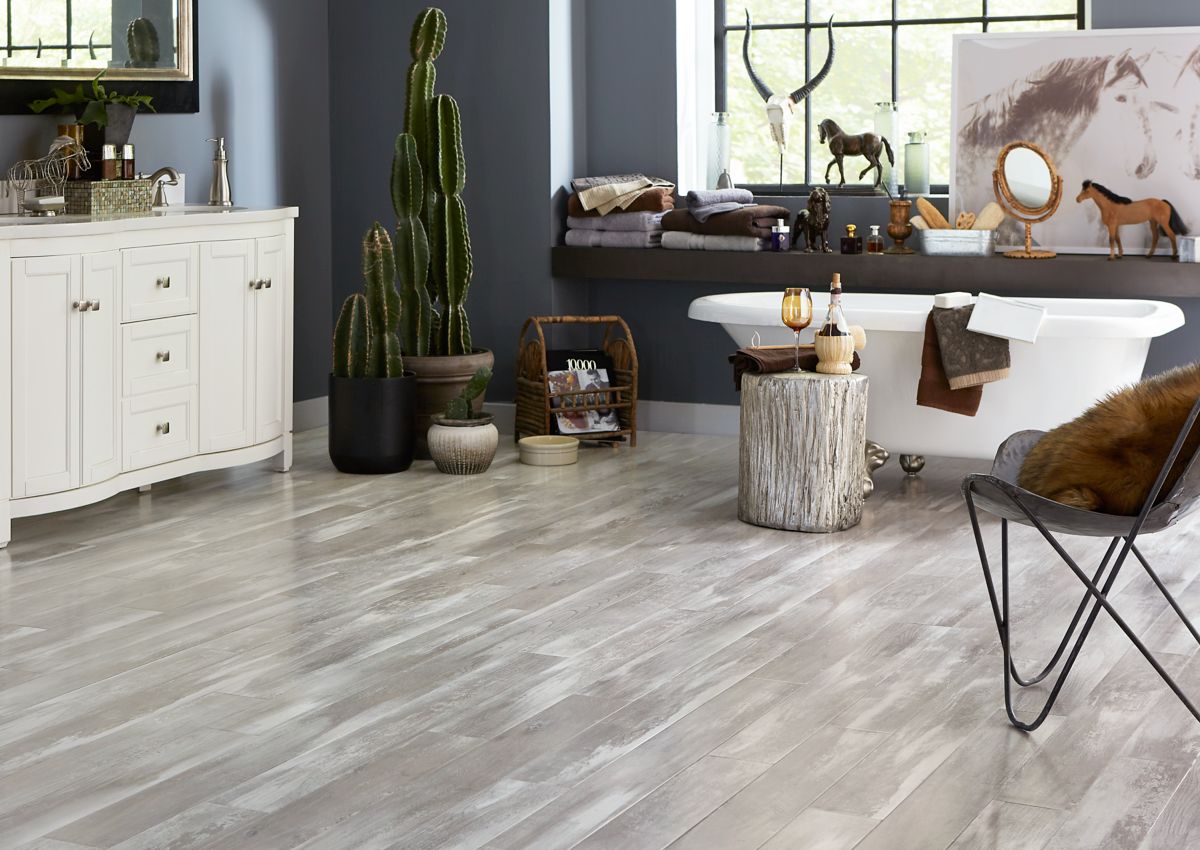 In conclusion, waterproof flooring is a versatile and practical solution for homeowners looking to combine style, durability, and moisture resistance. With various types and brands available, it's essential to research your options, consult professionals, and follow proper installation and maintenance practices. By doing so, you can create a beautiful, long-lasting floor that stands up to the challenges of daily life and enhances your home's overall appeal. 🏡✨😊
Don't forget to visit our website at www.builderssurplus.us for more information and inspiration on waterproof flooring options. Happy renovating! 🛠️🎉  T.B.
If you're ready to upgrade to luxury vinyl flooring, Builders Surplus offers top brands at unbeatable prices. Click here to explore our extensive Luxury Vinyl collection, and visit our store to pick up your new flooring today!