With all of the different bathroom vanity styles out there, how can you find the right fit for you and your bathroom? How can you be sure that the vanity you love will work with the space that you have? There are a few important questions to ask when you're vanity shopping to help you narrow down your search. The answers to these questions will tell you what you need to look for. Then, you can decide on your mounting options, which we will discuss first.
Bathroom Vanity Styles & Options
Choose your Mounting: Standard, Wall Mount and Corner.

Standard: Also known as free-standing, this is the most common of bathroom vanity styles. This is your best option for maximum storage space. Standard, furniture style vanities are very popular at the moment.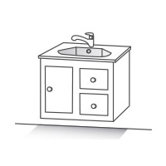 Wall Mount: Most wall-mounted vanities hang or float on the wall without legs touching the floor. This style looks more contemporary and opens up a small bathroom, but allows for some storage.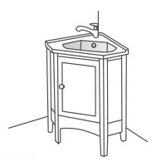 Corner: If you need to save space, this is the best option. Corner-mounted bathroom vanities have a 90-degree angle at the back so that they fit perfectly into a corner. They still offer cabinets for storage and just the right functionality for a powder or guest bath.
Now that you know the different mount styles, find the right fit for the bathroom your updating by asking these questions:
What bathroom are you hunting for?
A guest bath, powder room, or master bath?

A powder room is not for bathing, so you eliminate the need to store towels, shampoos, conditioner body wash, and scrub brushes.  If you have a medicine cabinet, you could do just fine with a pedestal sink, however, that will typically be the only storage in the space. If you have the need to store more, opt for a singe sink vanity. Opt for standard or wall mounting for powder rooms. Powder rooms can also be a great place to make a bold statement for less!
In a guest or hall bathroom, which might be used by children or teenagers, the vanity should be large enough to contain clutter and hold daily bathing essentials, but not have too much storage that everything gets thrown in. Drawers instead of cabinets are suggested to contain and organize toiletries.
The master bathroom is a main space for adults. Everything from hair, makeup, bathing, shaving, brushing and washing occur, so having PLENTY of storage for your various supplies is a must. Most couples prefer double sinks and cabinetry and drawers underneath. Standard or Wall Mount can work in this space. The style of the vanity could echo the style of the furnishings in the bedroom but it doesn't have to match. While floating bathroom vanity styles will give the illusion of more space, a furniture-like piece standing on legs will help the bathroom blend in to the style of the home.
How much space do you have?
Now that you know which bathroom you're looking for, break out your measuring tape! Measuring your space is important because vanities
come in a range of widths. You don't want to fall in love with one that just won't work. A two-sink vanity is generally at least 60 inches wide, but with the addition of storage drawers and shelves, they can be wider. Single sink vanities can start at around 24 inches wide.
Single or double sinks?
Double sink vanities are wider than single sink vanities, but are ideal for bathrooms shared by two or more people. Single sink work well in small bathrooms.
What are your storage needs?
Vanities come with many options for storage, including drawers, shelves, and cabinets. Think about who will primarily be using the space. What is this person or persons daily hygiene routine like? Are they a girl with blowdryers, rollers, straighteners and a bag full of make up? Or is it a boy with cologne, a tooth brush and deodorant? This will greatly dictate what storage options you should choose.
How do you want to customize it?
What do you want in your base. The vanity base can come in a variety of materials, including glass, metal, and wood, which is the most common option. The style you choose will need to coordinate with your base. Glass and metal are seen as modern, while wood can be used for a variety of styles.

What type of countertops do you like? The countertops of vanities are highly customizable. The most popular materials are marble, granite, and stone. Polished stone finishes are durable and easy to clean. Though other common materials include wood, glass, and metal. Often vanities are available with countertops, but if you're looking to customize, the countertop should be 1 inch larger than the vanity base. For example, if the vanity base is 36 inches wide, then the countertop should be 37 inches wide. At Builders Surplus, we sell individual vanities, individual vanity tops, and vanities with tops included. Whatever your preference, we can accommodate you!
What sink style do you prefer? Most vanities feature undermount sinks, which are mounted below the counter. Another option is a vessel sink, which sits above the counter. We have beautiful chiseled granite vessel sinks, copper, hammered copper and glass and porcelain vessels. This is a popular choice that can be a timeless look.
What hardware will you be using? The majority of vanities do not come with sink faucets and handles, which provides another opportunity to customize the look to your home. If you already have those things and need to work around them, choose a coordinating look or color scheme.
Will you have a backsplash or side splash? Consider whether or not you will need a sidesplash or backsplash to make the vanity work. If so, focus on brands that either include these pieces with the vanity or sell them separately. If you purchase these separately, ensure that the finish and dimensions match the vanity top. (For a backsplash, the length of the backsplash should match the length of the vanity top and with a sidesplash, the length of the sidesplash should match the width of the vanity top.)
Vanity Lighting
Regardless of the type of vanity you choose, proper lighting is essential. Typically, there is a lighting fixture over the sink or mirror but that can cast unwanted shadows on your face. This is not ideal for applying makeup or shaving. The better option is to use sconces instead! Placed on the wall at about five and a half feet from the floor and flanking a mirror will illuminate the face properly.
In a powder room, two sconces are all you need while in a master bath or guest bath with two sinks, use three or four, she says. A light over the tub and shower and one over the toilet should be ample light for a large master or guest bath.
There you have it! Follow these guidelines to find the bathroom vanity styles that will best match your renovated or refreshed bathroom space! Happy Remodeling!